Livi v Stenny
Still not convinced that was a pen



Posts

: 672


Join date

: 2014-06-14

Pittman looks a completely different player this season, I'm very chuffed to see him finally get a chance further up the pitch, and he is producing results for us from the move. His goal is prime evidence of how important he is to the team. Really should've had two goals against Airdrie last week, the change in him is fairly remarkable. Same goes for Mullen, to have 5 league goals in the opening 3 games is pretty good going considering the torrid time he's had of it recently. I sincerely hope this is his breakthrough season, and if he keeps the scoring record up it'll be hard to keep a hold of him.
Danny Mullen is in the SPFL's team of the week. That's him and Pittman had their performances recognized by the SPFL.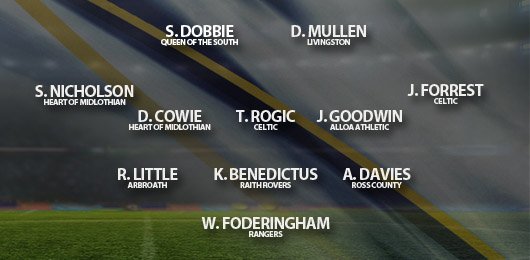 Posts

: 1163


Join date

: 2014-10-23

Liviforever wrote:Danny Mullen is in the SPFL's team of the week. That's him and Pittman had their performances recognized by the SPFL.
I still cant get over the fact that "chopper" Goodwin made the team
Apparently ran the show for Alloa in the first half, type of player opposition fans hate but they'd love him in their team. Mullen will run him ragged and draw fouls all over the shop.
Hope your right LF cause he didn't when we played St Midden last season
TBF his confidence should be higher this season.

D, Jim Goodwin was an astute acquisition by Alloa. Wouldn't have minded him here before I saw us play but not sure he would fit into our current style.
Dunno, the first game away to St Mirren, when Mullen was sent off in the dying minutes after he lost the heid at them for not giving us the ball back, when we knocked it out for their injured player to get attention, Mullen scored and played a blinder against them. Goodwin had a mare against him and was subbed before HT after being lucky not to get a 2nd card.

I don't think Goodwin will be able to handle players like Mullen, Buchanan, Cadden and Pittman, they're too quick and mobile for him, certainty he'll pick up a booking early and then be on the brink of a red all game.
I didn't see that game but he strolled it in the games here.
Mullen didn't play in 2 of those games though and was a late sub in another one. The 2 games Mullen started in we won 3-2 and 4-1, he wasn't in the 1-1 draw or the 1-0 defeat, and he only came on in the 82nd minute in the 3-2 defeat (and Goodwin was an unused sub in that game anyway).
A fully fit Mullen will draw fouls from Goodwin all game, or until he gets Goodwin sent off.
I'll sit down and shut up then... You anorak!!